Your event f**ked up, and there is literally nothing you can do at that moment to salvage the situation. Wanting the "world to swallow you whole" would be an understatement. It's happened to me! Having made a career out of putting on ticketed events, watching Fyre brought back memories of a time I messed up.
Fyre Festival. Photo source: John Klos [CC BY-SA 2.0], via Wikimedia Commons
Many years ago, we put on our first ever shared Christmas party event. It was going to be brilliant. We were offering far more than any other provider in the city, a 3-course meal with the choice of a traditional Turkey meal, Indian cuisine and Chinese food as well as some fantastic entertainment. The venue was providing the catering and the waiters. They assured me that they knew exactly what they were doing and had the team there to deliver. However, it was the venue's first time at hosting a shared Christmas party, as well. Looking back it was probably some of the waiters' first time serving tables.
To cut a long story short, the service was a disaster. For anyone who knows about hosting events, if you don't get the food right, no entertainment in the world will make up for it. I remember standing there with ten people, surrounding me baying for my blood and demanding refunds. It was a moment where I literally had no answer apart from "we f**ked up".
Looking back it was probably one of the best things that ever happened to me, and I learned a lot about mitigating risk and not simply taking your supplier's word for it. Since then we have gone on to host 100's of successful Christmas events and even won awards.
So going back to the Fyre, which I recently watched on Netflix, yes, it was an event management failure a million times the magnitude of what had happened to my event. But there were also several moments where not only did I feel the frustration around the cock-ups that founder Billy McFarland was going to make but also empathetic fear that he was going to have a lot of people after him.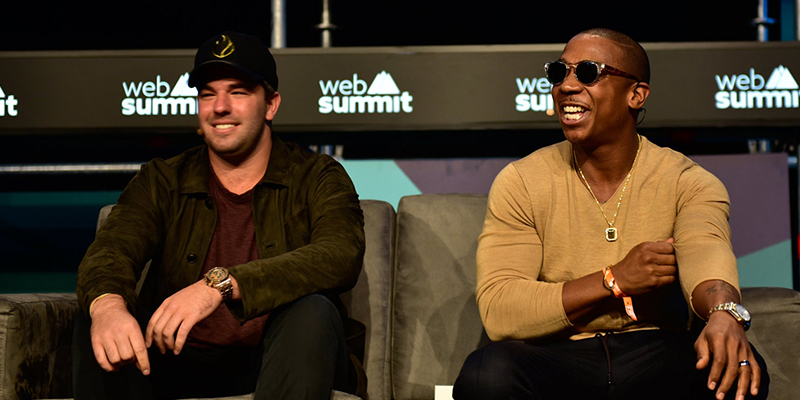 Billy McFarland & Ja Rule. Photo source: Web Summit [CC BY 2.0], via Wikimedia Commons
So if you are going to put on your own ticketed event here are five tips to ensure that rather than a flock of swarming vultures coming after you, you actually leave feeling like a rock star:
#1: Make sure it's possible
Before you go crazy with marketing what your fairy tale event would look like, make sure that what you want to do is logistically possible.
Is the venue capable of hosting the event that you want to do? Will there be enough toilets for the number of guests that you want to have at the event? In the case of Fyre, they sold more luxury villa accommodation than what was physically available on the island; so there you have an instant problem. Ensuring your event is actually logistically possible is the fundamental step.
#2: Cost it out
So your event is possible, you can get a helicopter to fly over the venue and drop gold petals, but… Do the numbers stack up?
So many event organisers I meet have amazingly creative minds, which is great, but don't think through the business case for the event. How are you going to fund it? If it is going to cost you more than you are going to get back, then you have a negative return on investment, and the event is a financial failure.
Marketing, websites, staff, catering, venue, entertainment, sound and AV…The list goes on, it all costs. Always budget an additional 20% for miscellaneous expenses. I.e. those that crop up, such as extra set up times or the taxis home you may have to get some staff who had to work extra late.
#3: Vet your suppliers
Make sure your suppliers are who they say they are. Have they done these sorts of events before? Ask for references, check out their social media profiles to see what they have done, and just get a feel for their work.
Ask the right questions, i.e. how would a caterer go about delivering a 3-course meal to 6000 guests working out of a shed for a kitchen? What experience do they have in that area?
#4: Work to a timeline
Event management is all about project management – it is about working with several moving parts and ensuring they can all fit together to make something happen. You need to make sure that everything is planned with a realistic timeline.
When we organise Christmas events it might look something like this:
January: Debrief previous year's events, evaluate feedback and decide on event theme for the year
February: Contract suppliers and put together marketing material
March – June: Market the product through various channels
July – November: Sell Tickets
September – October: Collate menu choices, seating plans and sell drinks packages
October: Update suppliers on duties and responsibilities. Send out itineraries
November: Finalise numbers and itineraries
December: Deliver the event and obtain feedback
This example is a very basic timeline, and it would be broken down even further. We use various tools to help us with communication such as Slack and task management tool such as Asana.
It sounds obvious, but don't leave it all to the last minute and hope things will magically sort themselves out. Continuous planning and communication with stakeholders are vital.
5#: Communication – Under promise, over deliver
Before your event, ensure that guests know what they are getting by keeping them in the loop about what is going on. If the bar is busy at the start, let them know. If parking is likely to be an issue, let them know, if there is expected high traffic – let them know.
The more you inform your guests and manage expectations before the better they will respond. Outline scenarios that probably won't happen so when everything is ok they feel good about it.
I've always likened managing promoted events a bit like being a football manager. If you get it right, everyone wants to shake your hand, but if you get it wrong, the hounds are ready to pounce, and suddenly everyone will have an opinion on where you went wrong!
Follow the above simple steps, and it will set you up a long way to getting things right!